The Australian Regional Network
Town and City Guide websites that support Australian Business, Community and Tourism
Harness over 1000 Australian Town and City websites to promote your Business or Community Group. Create your Account and Tell your story to your Town or All Australia
Is your Business or Community Group using Australia's largest Geo Media Network to deliver Ads, Articles, Events, Maps, Videos and Information into your Town?
The ARN supports the following Iconic Australian Community Websites, Scroll this window to view a few
The stars are the websites
These websites are at your service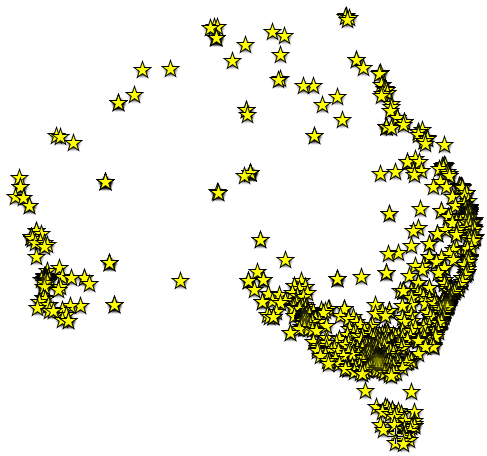 Are you listed?
Have you secured your position in this popular and growing and awesome Australian resource? Premium positions are still available and you can hold long term, there are no bid wars, those who support us the longest retain the Top Spots
Do you want your Ads, Events and Articles to be greater than a fleeting glimpse on Social Media?

Do you want your content to work for you 24x7 rather than Pay Pay Pay Per Click?

Do you want to support "Australian" and keep your advertising dollar within our Country?
Simply Do This
Publish your Permanent Ad, Great Articles or Public Event into your Town or City and THEN like that to social media.. where others can share it for you, in a viral way, and ALL the Search and Social Services can index it.. Get it?
Start Here
But wait there is more
Steak Knives and all.. Untold billions in Australian wealth is flowing from our country to the foreign dominating search and social media giants.. With the population glued to their browsers and phones Australian business is forced into bid wars and pay massive prices per click to fight it out for customers.. Even our Government is so addicted to sending our wealth overseas.
The ARN can help!

The Network is growing and NOW is the time to secure the Top Spots!
Australian Business Owners, Marketing Managers and Community Leaders can use our network
To attract new customers!
More than a Banner, better than a Listing, ARN Smart Ads have brains and life of their own, SEO Enabled Funnels to direct business to you. Your visitors can back link your Ads and Content via social media that is constantly working to send you new customers.

Tell your story to your Town!
"Tell your story" Great video example OPEN EXAMPLE
The best wine deals in the country OPEN EXAMPLE
Article Marketing Example OPEN EXAMPLE
We are sending new customers to this awesome Australian small business

Is your organisation listed?
How much does it cost?
Firstly. Create an account in your town and check inside for daily discount
Community Groups: $1 per month for up to 5 Ads or 100% FREE if sponsored
Local Business: $100 per year for up to 5 Smart Ads anywhere in the country + Extras
National Business: Under $1 per website per year, Broadcast enabled 1000+ Ads
You can publish Events from School Fetes to Business Sales, do Article Marketing such as Press Releases, Start with a Listing for your Business, each site has 21 Directories, List your Community Group, publish Video, Maps and more
Support us, send this information to a friend
Mail This Page

Please mail this page to your Australian friends. Thanks!
Find your local Town or City Website

Please Like and Share Widely
---
Australia's largest Geographic Media Network, bringing business and visitors to out of the way places

AUSTRALIAN OWNED!